Endorsements For NY Primary June 25, 2019
Polls are open from 6:00AM – 9:00PM. VOTE!
WHITE PLAINS COMMON COUNCIL: Kat Brezler
MANHATTAN DISTRICT LEADERS 74TH AD Part A: Aura Olavarria & John Blasco
BROOKLYN NEW YORK CITY COUNCIL DISTRICT 45: Farah Louis
QUEENS DISTRICT ATTORNEY: Tiffany Cabán
Voters for Animal Rights (VFAR) is thrilled to announce our endorsement of Tiffany Cabán for Queens District Attorney Democratic Primary. Read her response to our candidate questionnaire HERE. Tiffany is a qualified public defender with a transformative vision for justice reform and a serious commitment to animal protection.
"VFAR is proud to be on the front lines of justice reform in Queens while making sure that animal cruelty is treated seriously by prosecutors, whether perpetrated by individual abusers or institutional bad actors," said VFAR President Allie Feldman Taylor. "Our thousands of Queens supporters understand the the crucial need for a strong and compassionate district attorney and we intend to put boots on the ground to elect Tiffany Cabán on June 25." Please sign up for GOTV canvassing here.
Tiffany's thoughtful questionnaire answers stood out and speak to her knowledge of the law and issues affecting animals in New York City, including the inherent and rampant cruelty to animals used for food, clothing and other uses. Tiffany's interview with VFAR's advisory board confirmed her passion for animal protection and broad knowledge about many challenges faced by animals and their advocates in Queens. VFAR received Tiffany's commitment that she will assign assistant district attorneys to animal cruelty cases and collaborate with the animal rights community to strategically expand the application of New York's animal cruelty statutes. Tiffany's record gives us confidence in her ability to serve as district attorney and to lead Queens into a new era of justice and fairness. VFAR is excited to join the coalition of advocates supporting Tiffany Cabán for Queens District Attorney and we look forward to working with District Attorney Cabán to push the boundaries of achieving meaningful justice for all animals.
Launched in 2017, Voters For Animal Rights is a 501c(4) grassroots multi-issue animal advocacy organization that is building political power for animals. Our mission is to help elect candidates who support animal protection, lobby for stronger laws to stop animal cruelty, and hold elected officials accountable to humane voters. VFAR mobilizes public concern for animals through the political process. We know that animal protection is not only a moral issue but a bi-partisan political issue as well. Over 90% of Americans believe that animals need protection from abuse and exploitation.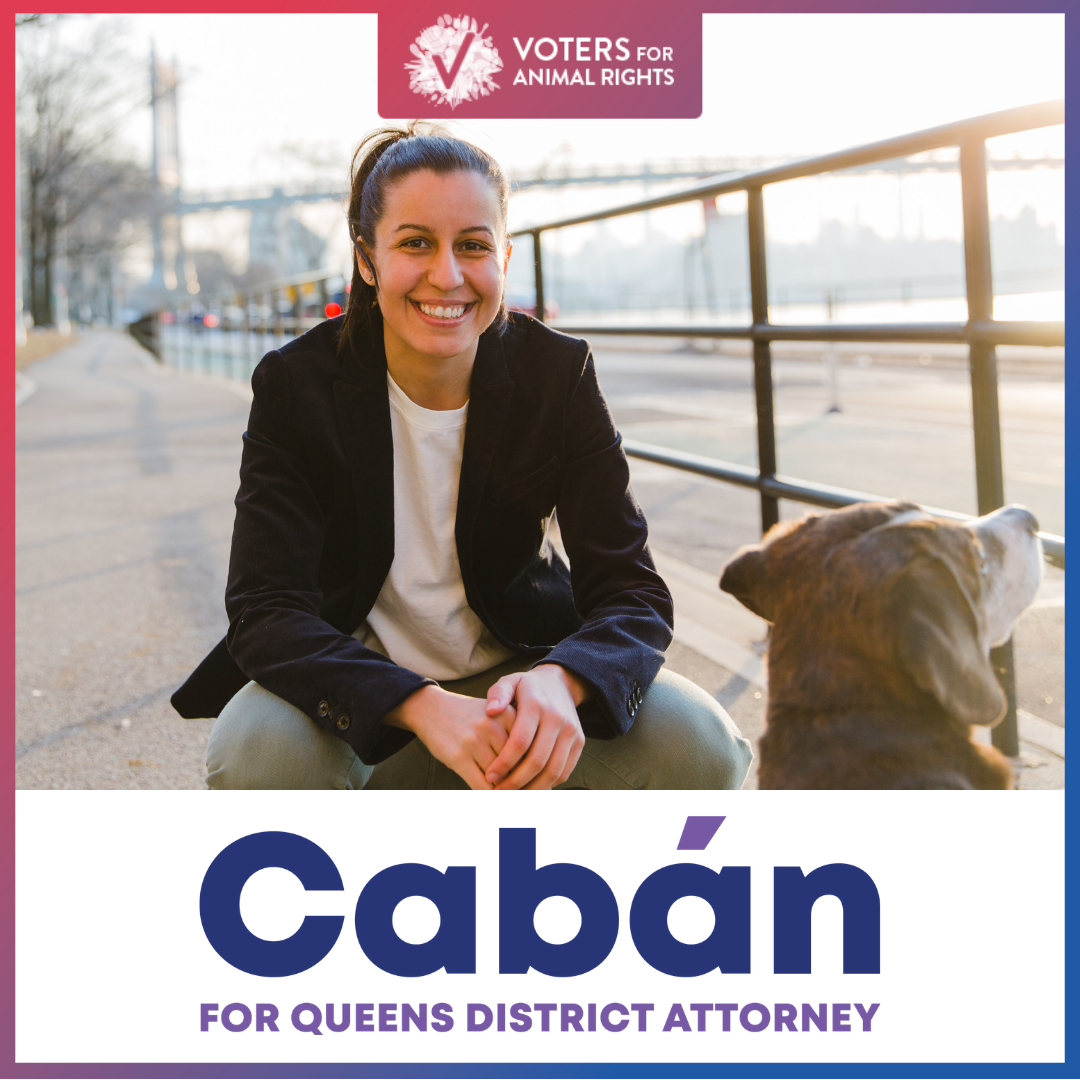 *We did not make an endorsement for the Republican primary as well because there is only one candidate on the ballot.